Admission Events
Williston hosts events on and off campus throughout the year. Join us at one of the events below to see what makes Williston different, and meet people from our friendly community.
Williston Family Reception
Thursday, January 23. Hosted by the Borden family at their home in Amherst, MA. 6:30-8 p.m. RSVP to the Admission Office by January 16 at (413) 529-3241 or admission@williston.com.
Upper School Admitted Student Days

Saturday, March 28
Friday, April 3
Tuesday, April 7
Middle School Admitted Student Night
---
1
Anytime
Request Information
2
SEP – JAN
Visit Campus & Interview
4
By Jan 15
Submit Your Application
5
Mar – Apr
Admission Notifications
---
Visit our campus
The best way to see what makes Williston different is to visit. Take a tour. Meet students and teachers. Soak up the friendly atmosphere.
Our ninth grade girls' dormitory, affectionately known as 194 Main, has three attached faculty homes.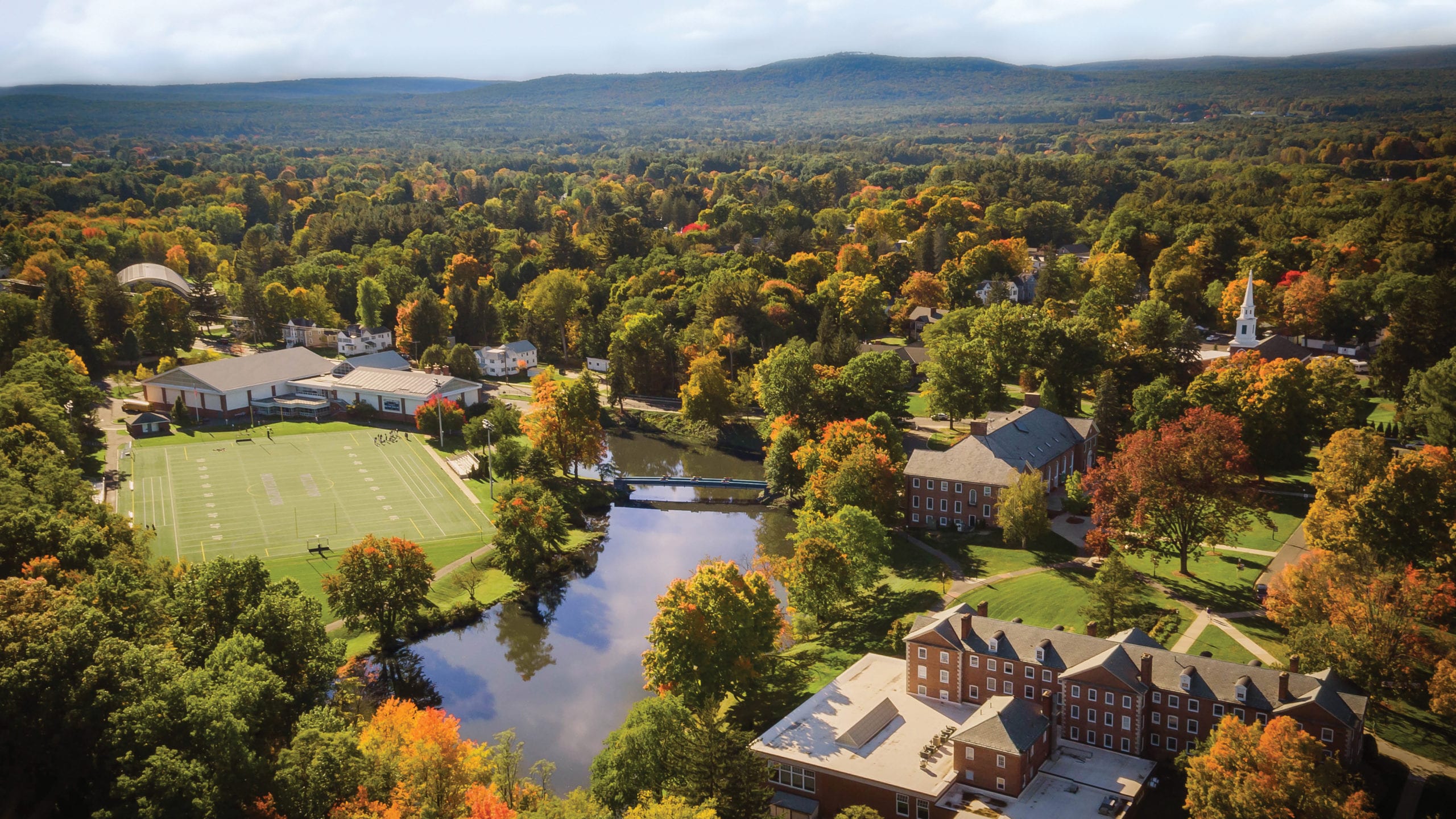 A drone's-eye view of the center of campus. Our Athletic Center and central turf field are the left, and our campus center and dining hall are on the right.
The Williston lion—sporting a fresh coat of paint by students— proudly looks out over the main Quad.
Galbraith Field is home to an eight-lane track, tennis courts, baseball diamonds, a cross-country course, and many playing fields.
Ford Hall, where many of our boarding boys live, is right on the main quad. It's also where Birch Dining Commons is located.
Our six-lane pool is home to the boys and girls swimming and water polo teams, as well as an elite regional swim club.
A peek inside our freshman girls dormitory.
---
"At Williston, I was able to discover and pursue my passion for dance. I never thought I would learn choreography and become the captain of the dance team, but the teachers and other students here really support everyone to try new things."
Destiny Nwafor, Cornell University '21
"You will never find a place with people as invested in your success and happiness as at Williston."
Nate Gordon, Kenyon College '20
"Every time I stepped out of my comfort zone at Williston, I was surrounded by people who encouraged me all the way."
Anabelle Farnham, Pomona College '22
---
Financial Aid
Williston's financial aid grants help make opportunity accessible to hundreds of exceptional students from all income levels. Each year, the school provides $6.2 million in financial aid, ranging from significant grants to modest awards, to help qualified applicants bridge the gap between the cost of tuition and family resources. Our goal is to open the door of opportunity, and to create a vibrant and diverse student body.
$6.2M
amount of financial aid awarded to Williston students in 2017-18
---
Why Williston
The moment you step on campus, you will feel it: Williston is more than a school, it's a community—a caring fellowship of teachers, advisors, coaches, and classmates.
---
Non-Discrimination Statement: Williston admits qualified students of any race, color, national or ethnic origin, ancestry, gender, religion, gender identity, gender expression, sexual orientation, or mental or physical disability, and extends to them all the rights, privileges, programs, and activities generally accorded or made available to students at the school. The school does not discriminate on the basis of race, color, national or ethnic origin, ancestry, gender, religion, gender identity, gender expression, sexual orientation, or mental or physical disability, or any other status protected by applicable law in the administration of its admissions, scholarships, and loans, and its educational, athletic, and other policies and programs.