Center for
Academic
Success
Williston's Center for Academic Success is a constellation of support that provides students at every level with the resources, instruction, and academic support they need to succeed. We offer levels of support for every kind of learner, ranging from drop-in writing and math centers to a structured Academic Strategies Tutorial and supported evening study hall. Housed in Clapp Library, the Center for Academic Success helps support and challenge students to reach their full potential.
Questions?
If you have more detailed questions about Academic Support at Williston, please contact our Director of Academic Support, Laura Vachet at (413) 529-3964 or by email.
Only at Williston
• Dedicated Academic Support Team
• Innovative Math, Writing, and Science Resource Centers and peer tutoring program
• Academic Strategies Tutorial
• Supported Study Halls
---
Writing Center
Modeled on the Amherst College writing program, Williston's Writing Resource Center gives you one-on-one support to help you become a more flexible and effective writer. Staffed by professional writing teachers and peer tutors, the center is open during the class day and during evening study periods. Whether you're working on a term paper, a creative writing exercise, or a college essay, you can bring work to be critiqued.
Math Center
We speak math here. Welcome to the Math Resource Center, where you can get help with homework or just talk about cool mathematical concepts with math-maven faculty and students. The center has regularly scheduled hours each school day, so you can book an appointment or drop in with questions. The center supports math at all levels, ranging from Algebra 1 to BC Multivariable Calculus.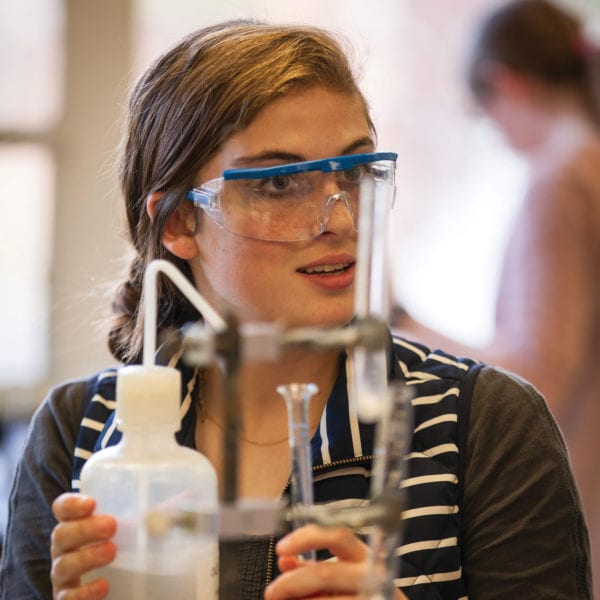 Science Center
Calling all science students! If you want help with an assignment, extra practice problems, or just a quiet environment to do homework, you are welcome at the Science Resource Center, where science teachers and student tutors are eager to assist. You'll find they're patient, explain difficult concepts fluently, and generally exude a passion for all things science.
Areté Peer Tutors
Areté is Williston's peer academic tutoring organization (named for the Greek word meaning excellence). Juniors and seniors in high academic standing are invited to be tutors, and are then matched with peers looking for extra support in the tutors' area of strength. Areté tutoring is available during the class day, activities periods, and evening study hall hours.
---
Academic Support Programs
One-on-One and Group Teacher Meetings

Students can schedule individual or small-group meetings with teachers outside of class. Teachers are often available to meet during their free periods, before or after school, and/or during the evenings.

Learning Strategies Meetings with Academic Support Staff

All students (with or without testing) can schedule an occasional 15-minute meeting with a member of the Academic Support staff to get extra help on study skills, test preparation, note taking, organization, or planning.

Subject Area Tutors

Any student (with or without testing) who requires subject-area academic support may request a tutor. These tutors are paid for by the family, but are vetted by Williston and can work with students on campus or through Zoom during students' free periods. Parents may request a tutor by contacting the Director of Academic Support.

Academic Accommodations

For students with neuropsychological or psychoeducational testing, the Director of Academic Support reviews the documentation and drafts an accommodations document in collaboration with each student's family. This document is shared with teachers to help provide appropriate educational strategies. A few examples of accommodations are:

Provision of class notes
Breaking down long term assignments
Use of a computer for writing
Support using or creating outlines or graphic organizers
Use of audio texts and other reading technologies
Extended time for testing

Reduced distraction testing environment

 

Middle School Academic Support Programs

We are proud to offer academic support programs in the Middle School, including proctored study halls and Academic Strategies Tutorial classes (see below) with instruction in executive functioning and study skills, as well as a structured program for tutoring sessions and homework completion. Please note that some programs have associated costs, but there are many free options (including our Writing, Math, and Science Resource Centers) that Middle Schoolers can access. If you have additional questions about the programs, please be in touch with Laura Vachet, Director of Academic Support. 

The Academic Strategies Tutorial is a regularly scheduled class that typically meets three times over the span of each two-week class schedule cycle. Students will meet in small groups with an Academic Support staff member to learn skills and strategies to promote academic success.  The Academic Strategies Tutorial is intended to complement a student's other classes.  Lessons may include: planning and scheduling for daily homework, strategies for assessment preparation; effective note-taking skills; reading comprehension strategies; and effectively using the School's resources and technology.  Students enroll on a per trimester basis and must be registered for this program within two weeks of the start of the term.  To enroll in AST, please complete the program agreement here.

Upper School Academic Strategies Tutorial

Students electing to join the academic strategies class will meet with an Academic Support instructor in four small-group classes per two-week cycle to receive specific, targeted instruction to build executive functioning skills. Topics of the class may include:

Planning and scheduling for daily homework

Strategies for studying for English, math, science, history, and foreign languages

Effective note taking

Reading comprehension strategies

Using Williston resources effectively

Use of the Microsoft Surface for learning

Test-taking strategies

 

Essay preparation and editing

 

Time management skills and techniques to improve initiation and motivation

 

Additional academic guidance, supervision and communication with advisors and teachers

 

Students in the Academic Strategies Tutorial will receive frequent written feedback on their use of strategies and academic success, which will also be shared with parents and other teachers.

Available to any student for a fee.

Laboratory for Academic Success

In this dedicated study space held during evening study hall, faculty supervise and support students. Subject-specific tutors are also available nightly. The low teacher-student ratio allows every student to get customized attention and assistance to help them succeed.

Available to any student for a fee.

Educational Evaluations

If a student experiences academic difficulties which suggest that an educational evaluation is appropriate, Williston can help parents explore potential resources for such testing. The school maintains a list of referrals for educational, intellectual, psychological, or speech and language evaluations, should parents/ guardians wish to consult with the school. Parents who need guidance in this area are encouraged to consult the Director of Academic Support or Health and Wellness Services.

Available to any student; fee determined by outside provider

English Language Learning

For students transitioning into standard English classrooms, Williston offers a year-long course focused on cultural transition and literary practices inherent to English language learners. The major components of this course help improve specific skills in reading, writing, listening, and speaking. Placement into ELL for non-native English speakers is determined by a review of previous course work in English and test scores, as well as an English aptitude test, if necessary.

Williston understands students who are entering a full English immersion experience may appreciate an added level of support as they become more confident and comfortable in their use (command) of the English language. During the initial transitional period, AST can provide additional supports, which may include reviewing teacher expectations, understanding English expressions in literature, teaching decoding strategies, providing supplemental readings to complement class texts, and creating graphic organizers for writing and notetaking.  

Please note that this program has associated costs. If you have additional questions about the programs, please be in touch with Laura Vachet, Director of Academic Support.  

Standardized Testing Prep

As part of the College Counseling process, Williston helps facilitate on- and off-campus opportunities for juniors who are interested in group test-prep sessions for the ACT and SAT. We work with two school-vetted tutoring groups to offer on-campus 3-session and 6-session workshops, and full-day intensives on campus. Off-campus, 8-week workshops and full-day intensives are also available locally through a Williston-vetted tutor.

For more information about our offerings, visit the College Counseling page.


Return to Learn

During the course of the academic year, sometimes students are injured, sustain a concussion or become sick. The Academic Department in conjunction with Health and Wellness Services is here to support your student during their period of recovery. 
Want to learn more about Williston?
Just fill out the short form below and we'll get you started.
<![endif]-->