The Wildcat Hub
The Williston Northampton School community remains as vibrant as ever, strong in spirit, in resources, and in hope. We hope you will stay connected with your Wildcat community through our virtual programming. We look forward to being able to cheer heartily and connect meaningfully in person soon.
Alumni Class & Affinity Events
The Alumni Office is hosting a series of online get-togethers via Zoom. Join your classmates for a virtual face-to-face event!
From the Homestead
Click one of the links below to read our monthly email newsletter.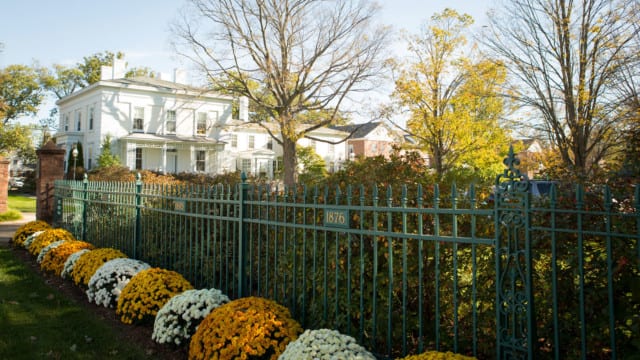 Wildcats at Work
Professional networking options and resources for our excellent alumni
Join hundreds of alumni at our new professional network and find classmates in the online directory.
Find grads in just about any career, all over the world on our Alumni LinkedIn Group.
Check back soon for online career networking events.
Wildcats Making a Difference
Shout out to alumni embodying purpose, passion, and integrity by turning their talents toward helping and informing during COVID-19. Know someone making a difference in their community or profession? Let us know by emailing alumni@williston.com so we can recognize their efforts.
Kate (Webber) Schubmehl '00
Kate is the Elementary Literacy and Humanities Coordinator for Chelsea Public Schools. Chelsea Public Schools is a gateway school system that welcomes and educates students and families. The city is just north of Boston, is only 1.8 square miles in size but has a population of over 40,000. The city of Chelsea has been hit very hard by COVID-19 and has the highest infection rate in the commonwealth. Chelsea schools closed on March 13, 2020 with the immediate need to keep students, staff, and families safe. Since then Kate has worked to set up engaging and enriching remote learning opportunities for all students, and to deepen and sustain these supports. Now with school closed through the end of the year, Kate will continue to support and connect all students with remote learning through collaboration with countless stakeholders, both in the schools and the community. During this challenging time the goal is to be flexible, creative, and grounded in order to do what's best for the students of Chelsea and their families.
Colleen Thom '02
"I work as a hospitalist physician in the greater Philadelphia area caring for patients who require hospital admission. Our area has been hit pretty hard by COVID-19. During our peak, the vast majority of our patients were being admitted for COVID-19 related complications. The high rates of inpatient mortalities and watching people suffer alone without family members by their sides has been emotionally taxing for our staff. There have been some incredibly trying days but the support of our local community has been inspiring."
Ted Caine '04
Ted works as the Director of Administration and Special Projects at GMHC, the world's first and leading provider of HIV/AIDS prevention, care and advocacy. During the COVID-19 pandemic, GMHC has had to adapt to support clients changing needs. One of the largest services is a congregate meals program, sometimes this is the one hot meal a client eats all day. To adapt to social distancing guidelines, they have created GMHC On the Go, a meal delivery service providing 14-meal pantry bags directly to clients home. Ted is proud to be a part of GHMC while they step up to help clients!
Julie Long '99
Julie writes, "For the past month I have been triaging people in a temporary structure placed outside of the ER, designed to cater only to patients showing symptoms of Covid.  The number of people coming through has seen a severe increase from our initial numbers, and the patients I am seeing are significantly sicker.  Most days I come home exhausted, but I have to go through a strict routine to disinfect myself and the belongings I bring back into my home. While it would be far easier to take a step back and allow others to do the hard work, I know this is what I have dedicated myself to do."
Morgan Nichols '00
Morgan is the State Director of Main Street Alliance of Vermont, a non-profit organization that lifts up the voices of small businesses to advocate for policy change both at the state and federal level. Working with their national organization, Main Street Alliance has been leading the charge in advocating on behalf of small businesses by lifting up the voices of those who are getting left behind in the current federal packages.
Beth Martinez '97
Beth's restaurant Bistro Les Gras is working on providing food to Cooley Dickinson hospital for #FeedTheFrontlines.
David Bartlett Bates '02
David is a radiologist at Memorial Sloan Kettering Cancer Center in New York, and has been innovative in finding ways to limit infection spread to cancer patients in the hospital. "Cancer does not stop," David said, "so neither do we."
Laura Bowman '13
If you've come to a recent local Williston event, you have probably experienced the fantastic food this alumna caterer produces with her company Blue Door Gatherings. Shout out to Laura for her generosity making lunches for front line medical workers.
Brittany Collins '14
Brittany contributed to the important conversation around remote teaching and learning during this time of social distancing. Read her article here for some insight.
Katharine Cole Esty '52
Sincere thanks to Katharine for her informational piece, "What Older People Really Need During The Coronavirus Pandemic: Lessons They Can Teach Us." Read the piece here.
Xavier Thibault '18
Xavier Thibault '18 is working with The Brain Exercise Initiative, which is a non-profit organization led by university students at 32 universities, facilitating brain exercises which consist of simple math, writing, and reading aloud exercises for seniors at local retirement and nursing homes. However, due to COVID-19, all of the volunteering activities at retirement homes have been temporarily suspended. For this reason, they are currently reaching out to caregivers to reach seniors who would be interested in having audio/video calls with volunteers. They will chat with the seniors and spend time going through some simple and fun 'Brain Exercises!'
Leah Pezanowski '17
Leah has been working at the New York State Department of Health since September of 2019. She usually works in the Division of Hospitals and Diagnostic and Treatment Centers in the division of Organ Donation and Transplant. Recently, during the outbreak of this pandemic, she has joined the team of dedicated individuals at the Rapid Response Call Center. They are responsible for helping healthcare facilities across the state remain fully equipped with personal protective equipment.
Thomas (Chris) Kelley '84

Chris works in the Pulmonary and Critical Care unit at Alaska Native Medical Center in Anchorage, Alaska. "COVID-19 has been, and will continue to be, completely transformative to my work," Chris said.
Jonah Stinson '00
As a disaster management expert and physical geographer in Washington state, Jonah is responsible for anticipating and preparing governmental responses to "anything that rocks society, that's out of the norm." He's been busy responding to the coronavirus pandemic.
The Latest from Easthampton
Williston is taking proactive steps to ensure the health and safety of our community, and working to support our students and families as they navigate this time of uncertainty.
We've created a COVID-19 resources page to serve as a hub of useful information, and have taken steps to give back to our community. This spring, students engaged in virtual classes, such AP U.S. Government, taught by Peter Gunn; The Willistonian actively published online; and students, faculty, and staff tuned in to Wake Up, Williston!, a virtual assembly.
At right, see Head of School Robert W. Hill III's recent video message from April 21.
Wildcat Wisdom
What we need right now: Enjoy good advice and inspiring ideas from your classmates through the years.
Actor and writer Alan Alda GP'11 gave the 2011 Commencement address. Watch some inspiring words above, and see his full speech here.
Writer, actor, and director Brad Hall '75 ended his 174th Commencement keynote with a bang (and an off-color song) "Don't be an A**hole." Listen to the song above, and hear his whole address here.
Rachael Miller '88 gave Cum Laude inductees and the entire Williston community five pieces of advice, based on her work as an ocean conservationist and pilot of a 60-fool sailing vessel. Watch her 2020 address above, and read more about her here.
Renowned artist, author, and former faculty member Barry Moser gave the Commencement address in 2014. Hear a few words of wisdom above, and watch his full speech here.
Professor, musician, and social entrepreneur. Pierce Freelon '02 gave the 2018 Commencement address. Hear a clip of his inspiring speech above, and watch the full clip here.
Dyan deNapoli '79 tells the story of the world's largest volunteer animal rescue, which saved more than 40,000 penguins after an oil spill off the coast of South Africa.
Over the past decade, Anthony Willoughby '70 has developed a visualizing process called "Territory Mapping," inspired by conversations with tribal chiefs of remote villages in Papua New Guinea and Kenya. Visit his website.
Alumni Experts
Closet Clean-Out with Merideth Morgan '03
Pull open your closet doors so Merideth can walk you through how to purge. She'll be sharing her tips and tricks on getting and staying organized, and she'll get you to a place that will have you excited to get dressed!
Fitness, Nutrition & Self-Care with Merideth Morgan '03
Join Merideth Morgan '03 with a 10 minute warmup and stretch followed by a discussion on finding joy in movement and how we can fuel our bodies with nutritional food. She shares some great self-care routines and things you can do to keep your mental health in check and spirits high. If you need some motivation, this video is for you!
Photojournalism: Then & Now with Sean Kardon '79
Join Sean Kardon '79 as he discusses the evolution of photojournalism. Sean has photographed every president since Carter to the current administration! Learn how the rapid advancement in digital technology and the explosion of social media have affected the profession. He will also cover tips for taking the best mobile phone photos.
Virtual Wine Education Talk with Gordon Sullivan '69

Sip your favorite wine along with Sommelier Gordon Sullivan '69 for an interactive evening of fun while boosting your wine IQ on grapes, wine regions, fermentation science, and food pairings. You will learn how to appreciate a wine's appearance, aroma, body, taste, finish, and much more!
Virtual Cooking Class with Laura Bowman '13
Watch Laura Bowman '13, proprietor of Blue Door Gatherings and TULA, create the perfect fall apple galette. You will learn how to make pate brisee (French tart dough), source apples for baking, roll tart dough, shape, and bake the tart.
---
Wildcats Create
Your inspiration destination: hear from alumni in the visual and performing arts.
Calvin Ticknor-Swanson '16
Calvin sings "You Don't Need to Love Me" from the musical If/Then.
Pat Ingram Bone '65
Pat created artwork from used Amazon boxes, as part of the Isolation Creation project led by Williston's Visual and Performing Arts department.
Julia Farnham '20 and Tim Farnham '82
Julia (voice) and Tim (guitar) perform the classic "Has Anybody Seen My Gal."
Gabby Record '17
A lovely performance of "Dream a Little Dream of Me," featuring Gabby, who was heavily involved in the arts while at Williston. She'll graduate from Berklee College of Music this spring.
Shawn Amos '86
Amos' new record Blue Sky is has been called "playful and improvisatory" (No Depression: The Journal of Roots Music), that "will be a fan favorite all year long" (American Songwriter). Hear it at shawnamos.com.
Tamsin Smith '84
Three poems from the alumni poet, filmed in her San Francisco home.